I got some of the new Cuttlebug embossing folders and was playing around with them the last couple days. I love these because I can whip up simple yet elegant cards and they don't really cost that much to do. It seems like when I do my Christmas cards I'm probably investing 10x's more than if I were to go out and buy premium Hallmark cards lol.
Here's some of the cards I made. This first one is the holly folder. I struggled with this one, I ended up embossing the holly on a plain green cardstock then I used my brayer to ink the raised part of the embossing with a metallic copper, I inked the edges of the red cardstock and tag. On the tag I stamped "Merry Christmas" and a couple holly images (it's hard to see) then I just added the red & gold ribbon. It looks better in person, actually all of them do.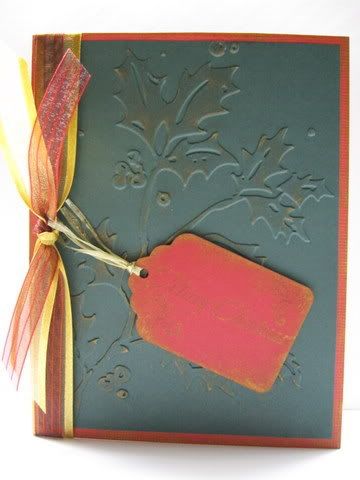 I used the snowflake dots (I think that's the name of this one) folder for this one. I used a shimmery white paper to emboss the image, you really can't tell in the pic. Each of the snowflakes have a dab of glitter glue in the center of them for a little extra "bling". Then I just scored the area for the "Seasons Greetings". I also added some red glitter glue for the berries.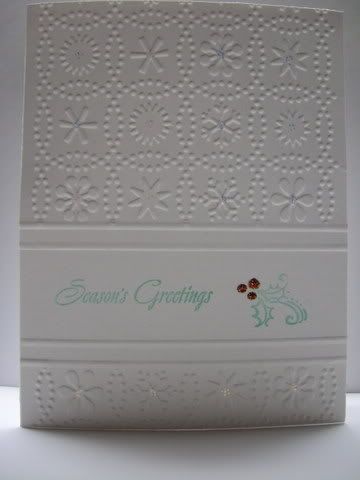 For this one I also used the snowflake dots on the shimmery cardstock. The square was embossed with the swiss dots template and the snowflake is one of the cuttlebug templates too. I added some glitter glue to the snowflake and a jewel for additional "bling".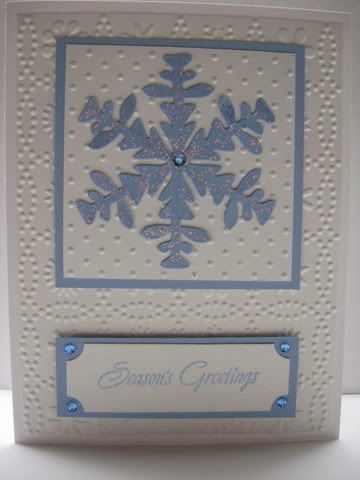 And this is the last one. This one is my favorite. I actually went back to the store to buy this folder. I think this one is called the lace tree. I embossed this one on a light blue shimmery cardstock then used my brayer to ink the embossing with a metallic silver and then I added some jewels to the snowflake at the bottom of the tree. This one is so much prettier in person. I haven't completed this one yet, when I mount it on the card I might add a piece of sheer ribbon like the first card or I might just leave it as is, simple & elegant. DH always tells me I get carried away with all that "stuff" and they get too busy lol.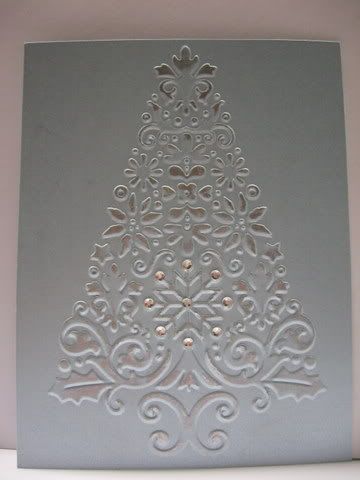 Thanks for looking. I've got a bunch of other cards started that I hope to maybe work on tonight, so I might have more to share later :) I also need to get going on more christmas cards because at the 1st of the year I decided I would make 4 cards a month so I could have all my christmas cards completed by the end of October! Needless to say, this batch of cards is my "April" batch lol. Of course if I just whip out 3 more of each card I can be all caught up :)